Search Our Jobs
Job Matching
Search jobs based on the skills and experience in your LinkedIn profile.
Start Matching Jobs
Physician Assistant
At Walgreens Healthcare Clinic, our Physician Assistants believe in excellence and are passionate about providing outstanding patient care and promoting Healthcare Clinic as the premier provider of quality, accessible, and convenient care. The Physician Assistant will be responsible for providing patient care consistent with Healthcare Clinic's scope of services for patients 18 months or older.
Together, we can redefine the future of healthcare. If you share our passion for care as a calling, we have a home for you on a team of like-minded medical professionals at the leading edge of a revolution in healthcare. We are hiring Physician Assistants for over 80 convenient Walgreens Healthcare Clinic drugstores in Arizona, Colorado, Nevada, and Texas. Our company combines best practices in healthcare and the expertise and personal care of our trusted community of providers to deliver access to high-quality, affordable and convenient healthcare to all individuals.
Check Us Out
Healthcare Clinic Map of Physician Assistant Opportunities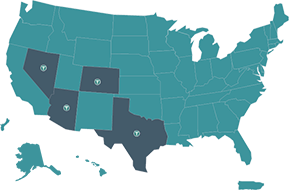 View Assistant Physician Opportunities
Useful Links